Online Learning in Pre-K Lewis
I will update daily! Please see all of the links that I have posted with songs, activities, and more that you can do at home!
 ********I HAVE MOVED LAST WEEK'S ACTIVITIES TO THE BOTTOM OF THE PAGE SO YOU CAN STILL REFER TO THEM IF NEEDED********
Week of June 8th
 As I had posted last week, I am keeping the same activities up for this week because it was enough for you to do at your own pace.  The June packet (#4) is 4 weeks worth of lessons.  This week I will be working diligently to finish up some things to be ready for our "graduation" parade on the 15th.  I pasted the notice below that was sent via email last week. 
You are invited to a preschool end-of-year parade!
WHEN: Monday, June 15th
TIME: Pre-K Kramer 10:00-11:00
Pre-K Lewis 11:00-12:00
(You may drive through at any time during your classes designated time.)
WHERE: Enter through church parking lot, off Lake Ave. Head down Lighthouse Road where the Pre-K team of teachers will be set up with stations.  We will safely approach your car and hand the children items from each station. Please be sure to drive slowly and stop at each station of teachers!
 Please decorate your car!! Also, please put a poster board on the front with your child's name so that we can see who is coming.  We will be announcing names as you drive through!
Activities for Week that you can do at your own pace-
Number Practice- Numbers110
This activity is definitely more suited for the older kids heading to kindergarten- it focuses on sentence building and practicing with writing; ReaditTraceitPasteit
Beach Lesson Plans- BeachthemedpreschoollessonplansFREEBIE
June Lessons (there are 4 weeks here so you can pick and choose and use what you want over the next few weeks)     JuneLessons
Wednesday June 10th– Read Aloud for the day- Chicken Soup
Tuesday June 9th- Read aloud for the day; Miss Spider's Sunnypatch Kids
If you need to get some work done today and need a good video, here is the 45 minute cartoon of the book! It is super cute!!
Monday June 8th- Read aloud for the day; A Rainbow of My Own by Don Freeman
See June Activities at top of page
Name and Letter Practice Activity – children can either write or trace the letters of their name
Making Rainbow toast- this seems fun! If anyone tries it, please share pictures!!!
Thursday, June 4th- Read Aloud for day; Down by the Cool of the Pool by Tony Mitton
Activities to go along with the book- click on link DownByTheCoolofthePoolBookCompanion
Some Fun Water Activities- great for sensory and some are great for fine motor skill strengthening as well.-
Paint with water. …
Make garden soup with some friends. …
Mix colored water. …
Get out the kiddie pool and add some balls. …
Wash the toys! …
Squeeze some pompoms. …
Recycle old glue bottles as water squirters. …
Float some boats.
Wednesday, June 3rd- Read Aloud for day; Smiley Shark by Ruth Galloway
Ocean I Spy Game Printable- counting-ocean-animals-i-spy
Fun Shark Facts for Kids!
Tuesday, June 2nd- Read Aloud for day; Hedgehog Needs a Hug by Jen Betton (Mrs. Lewis needs a hug too… I miss all of your hugs)
Some Beach Fun and Science Activities you can try! 
https://littlebinsforlittlehands.com/beach-discovery-bottle-for-kids/
https://www.growingajeweledrose.com/2014/04/sand-volcano-fun-for-kids.html
https://www.kiwico.com/diy/Science-Projects-for-Kids/3/project/Sand-Slime/2647
http://tothelesson.blogspot.com/2011/03/saltwater-vs-freshwater-experiment.html
Monday, June 1st-  Read Alouds for day; Every Buddy Counts by Stuart Murphy and Today is Monday by Eric Carle
Here are some fun sensory bin ideas if you want to expand your horizons and make some interactive sensory fun at home!! 
I had originally posted these about 2 weeks ago.  I moved them back up here in case they got lost on the page.  These are some great interactive videos to work on counting, letters, and more. 
Printable Resources
prekpages-insects-literacy-packet
prekpages-lima-bean-life-cycle
YouTube Links for our classroom songs 
Letters and Sounds–  https://www.youtube.com/watch?v=36IBDpTRVNE&list=PLnPvtpoLSWjR44PPb3PSqwVasIP82wkLC&index=17&t=0s
Good Morning Song  https://www.youtube.com/watch?v=CuI_p7a9VGs&list=PLnPvtpoLSWjR44PPb3PSqwVasIP82wkLC&index=11&t=0s
Please and Thank you Song  https://www.youtube.com/watch?v=zXIxDoCRc84&list=PLnPvtpoLSWjR44PPb3PSqwVasIP82wkLC&index=13
7 Days of the Week https://www.youtube.com/watch?v=3tx0rvuXIRg&list=PLnPvtpoLSWjR44PPb3PSqwVasIP82wkLC&index=14
Shapes Song  https://www.youtube.com/watch?v=OEbRDtCAFdU
Count with Me from 1-20  https://www.youtube.com/watch?v=D0Ajq682yrA
Learning/Teaching Websites
Some good tracing sheets for our 4/5 year old friends!
Scholastic News- Another AMAZING resource!
https://classroommagazines.scholastic.com/support/learnathome/grades-prek-k.html?promo_code=6294&magazineName=classroommagazines
The OT Mom! This is an AMAZING resource!! You can find all sorts of activities to work on at home for strengthening  fine motor, gross motor, and large motor skills!  
https://www.ot-mom-learning-activities.com/
Preschool on the Go! https://modernpreschool.com/preschool-on-the-go/
Starfall  https://www.starfall.com
List of websites and educational resources (all ages) http://www.amazingeducationalresources.com/
Previous Week's Videos and Read Alouds
Week of May 25th- All about Community Helpers
Please refer to your Community Helpers Packets, that were sent home at the last packet pick up, for this weeks activities,
Reminder- 4/5 year old friends- there was an extra packet that I sent home for you all that was just extra stuff for you to work on as you wanted.  And all children received a shapes booklet to work on as you wish.
Thursday, May 28th
Community Helper stories for today- Police Officers and Construction Workers
Packets- Please just have your child continue to work through their community helper packets today and Friday. 4/5 year old packet, there are lots of choices, so pick and choose!
Here is a great game/video that you can do with your child (all ages) 
Community Helper Songs fro Preschoolers-
Wednesday, May 27th
Community Helper stories for today;Nurses and Grocers
4/5 year old packet-
Practice your book- My Book of Community Helpers! 
3/4 year old packet-
Work on community workers counting cards
Continue to use your imagination, pretend, and play building your own community worker work zones! 
For Everyone- 
Here are some free downloads for Community Helpers-
https://www.totschooling.net/2014/06/occupations-vehicles-matching-activity.html
Tuesday, May 26th Today's stories are about teachers and principals; We Need Teachers by Jane Bauld and We Need Principals by Jane Bauld. 
Activities for 4/5 year old friends-
You have community helper picture/word cards– you can do anything you want with those.  I just wanted you to have them so that the children could do some picture to name association.  You can tape them up around the house for them to practice reading, they could practice writing them, you could play games with them like pick a card, read it and act out the community helper, and so much more. 
They also have a community helpers mini reader that they can practice reading and recognizing community helper words. 
Pick 2 of the community helper pages that look like this (any 2 you want) and either copy and write the words where they go or cut and glue them.
Activities for 3/4 year old friends-
Community Helper Count and Clip Cards in your packet- you can work on these all week.
Literacy-  Can you name some community helpers and have your grown up write a list of what you come up with? Write the words big and have your child practice tracing the letters in the words with a crayon or marker.
Use anything you have at home to make a pretend community helper work zone (build a hospital, a post office, a police station, whatever you can come up with).
Week of May 18th
This week, please refer to Packet #1 for activities.  I have posted the weekly pdf file but you also have a copy of it in packet #1.  Young 3 and 4 year old friends, please do not feel inclined to do all of what is on that schedule.  Most of the online learning that I am pulling is really geared towards older pre-k children. 
Click below for this week's schedule- you also have a copy. Each day has a theme to it with additional learning activities in the packets to work on letters, sounds, numbers, and rhyming.  The packet activities are probably geared more towards are older pre-k friends while the actual schedule of at home learning can be used by all.  
REFER TO WEEK 8 SCHEDULE IN YOUR PACKET- Click link below and scroll through for Week 8. 
Friday, May 22nd– Today and Monday are "No School Days" I am posting a story for today for those who are interested.  I will post new lessons beginning Tuesday! You can still access lessons for today (Friday) via the link below, if you are interested in activities for today! I will also read live at 10:00 today, but not on Monday. 
Dogs Don't Wear Sneakers by Laura Numeroff
Thursday, May 21st- Mrs. Lewis Read Aloud- Bear Sees Colors
Today's Activity Theme is Music!  I would love to see any musical instruments that you can make.  Maybe you can share on our show and tell today! We will have show and tell at 2:30 via the Zoom Link-
Topic: Pre-K Show and Tell Thursday at 2:30!
https://us02web.zoom.us/j/5094636484?pwd=eHlYNExMb3FRRmNDR0NZQzdlZnJmUT09
Meeting ID: 509 463 6484
Password: preklewis
A fun song put to a book but sang to music–
Here is a fun video show some easy to make instruments at home!
Wednesday, May 20th- Read aloud by Mrs. Lewis- One Fish, Two Fish, Red Fish, Blue Fish
Today's Calendar Theme is Numbers (well that is no fun!)
This is a song video that Pre-K Lewis children should be familiar with from our classroom- Count with me from 1-20!
Some Fun Number Crafts- 
QTip Number Tracing (you can do with this for letters and shapes also, it is a great fine motor activity)
Ice Cream Cone Numbers (counting and recognition)
Tuesday, May 19th- Read Aloud by Mrs. Lewis is- Pete the Cat Go, Pete, Go
Today's schedule is all about Savannah animals! Here are some Savannah Animal Cards to use for whatever you choose.  
How to use 3 Part Cards    SavannaAfricaAnimals3PartCards
Here are some additional resources that I have come upon- The are sorted by younger preschool and older preschool-
Younger Preschool Children- 
3MemoryGamesColorsShapesNumbers
Older Preschool Friends-
3DimensionalShapesASortingActivityFREEBIE
IHaveWhoHasAlphabetGame  (This is a game that works best played with at least 3-4 people so maybe you can play as a family, especially if there are older siblings…)
Monday, May 18th Read Aloud by Mrs. Lewis– There Was an Old Lady Who Swallowed some Books
Pirate Stories and activities to go along with scheduled activities on week 8 
Pete the Cat and the Treasure Map– this is a good one to go with today's activity of making a treasure map and go on a treasure hunt!
Week of May 11th CLICK ON SCHEDULE
Friday, May 15th- Read Aloud by Mrs. Lewis;Chicka Chicka Boom Boom
Some of our favorite letter videos that we watched at school-
Today's feature activites are everything LETTERS! Build letters out of sticks, find letters, find the letters in your name around your house, write letters on paper and hop from letter to letter, saying the letters as you go. 
Older Pre-K friends, spell out small words like H O P ( one letter on each paper) and then jump from letter to letter, spelling the word and then saying it.  Spell out your name, jump from letter to letter saying and spelling your name. 
Something fun you can do with names- use tape (masking tape if you have it) to make your childs name on some white paper.  Have your child paint all around the tape letters.  Once the paint dries, carefully peel the tape off to see their names.  Water colors might work best but you can use regular paint or even bingo dabbers if you have them. Instead of all tape letters, you can also cut out block letters and just tape those onto paper and then do same- paint all around them and then peel off.  You can do whole name or even just initials.
Wednesday, May 13th– Read Aloud by Mrs. Lewis; My School is a Zoo by Stu Smith
Today's Theme on the schedule is camping/nature- here are some more stories that go with the theme-
Pete the Cat Goes Camping
PJ Funnybunny Goes Camping
Letter/Sounds Activity substitution for our younger friends– instead of the sound do-a-dot paper, can you come up with a list of things you might take camping with you? You can draw pictures or have your grown up write them for you and then you can trace the words.  How many things did you come up with to take camping? Can you write or trace the number?
Tuesday, May 12th– Read Aloud by Mrs. Lewis; The Pout Pout Fish in the Big-Big DARK by Deborah Diesen
On Tuesday's schedule there are activities about The Beach! Here are some stories about the beach if you do not have any at home! You can also search more via YouTube! 
Younger pre-k friends- can you use toys and materials you have at home to build your own pretend beach? What kinds of things do you have (blankets, sand buckets and sand toys…) Also, for ELA (instead of the clap and build sound activities) can you draw a picture of a beach and tell your grown up all the stuff you would bring with you to the beach if you could go right now. 
Pete the Cat goes to the Beach
This was one of our favorite videos to engage with before lunch in Pre-K Lewis!!  It is called Roller Coaster by Koo Koo Kanga! Click link below-
https://www.youtube.com/watch?v=GSDxhF6GIUU&list=PLAwOTEJXH-cMhyAL6LhNktMd8XrtF4rog&index=10&t=0s
Monday May 11th- Read Alouds by Mrs. Lewis; God Bless my Boo Boo by Hannah Hall and Dandelions by Mia Posada
On the planning schedule it says to read a book about rainbows- here are some read aloud links in case you do not have books about rainbows at home. 
A Rainbow of My Own by Don Freeman
The Rainbow Fish by Marcus Pfister
See the At Home Learning Plan for the rest of today's activities
WEEK OF MAY 4th
PACKET PICK UP WILL BE FRIDAY FROM 2-4 and SATURDAY 10-11
As per the email I sent out, I have attached a link to a schedule for the week.  I will also add additional activities as the week goes on (more interactive, hands on, and videos). Be sure to click the correct schedule based on the All About Plants packet that came home to your child. 
Week of May 4th- Plants Schedule 3_4 Year olds
Week of May 4th- Plants Schedule 4_5 Year olds
prekpages-lima-bean-life-cycle This can be used as additional activities if you would like to as the children sprout their beans that I sent home.
Interactive Game-Plants This is an interactive game that I found. This is a 4 level activity.  It is a great interactive activity of our older friends who are starting to read and recognize words. 
Week of May 4th- YouTube Links and additional learning-
Happy Friday!! My internet was done last night and just came back on. It is very difficult to update the website on my phone. It is not phone friendly. I will get the story YouTube link posted by 10:30! In the meantime, you can still access today's activities. 
Friday's Bo
Friday's Book
Thursday- Book; How a Seed Grows by Helene Jordan
This isn't the most exciting story but I wanted to read it to give you another fun option for maybe planting some beans with the kids.  Using eggshells can be a great way for the kids to be able to really see the way a seed grows and gets roots.  
YouTube Links-  I posted 2 links today.  One is me reading and the other is someone else.  I did this because I kind of summarized some parts when I read so if you want to try and do the egg shell planting with your child, you may need to watch the 2nd reading so you have all the instructions. 
This is just a fun video to watch about seeds becoming plants!
A fun activity, if you have the supplies! You could use rice or popcorn kernels for the seeds and spaghetti for the roots
Wednesday- Books- Growing Vegetable Soup and Flower Garden
2 books today, because they are both kind of short!
Additional Learning/Art- If you could make any kind of soup you wanted, what would you put in it? Write or draw about it.  Mrs. Lewis would make soup full of chocolate brownies, cookies, and pizza!!!
Tuesday– Read aloud book- The Tiny Seed by Eric Carle
YouTube Link-
Art activity you can do-
Monday- Read aloud books are Ten Seeds and Growing a Garden
YouTube link for story-
https://www.youtube.com/watch?v=IrIqM_TUoJA
YouTube Link- Mrs. Lewis making her Bean Sprout House!
Friday, May 1st
Today's Story- The Very Clumsy Clickbeetle
YouTube link-
https://www.youtube.com/watch?v=6OdSI42L4cE
No new activities today expect 2-
Everyone- Send Mrs. Lewis a video via email or text or post it in our group, and tell me about your favorite book that we read this week and why you liked it.
4/5 year old friends- here is a little extra challenge for you- pick 3 of the books we read this past week (you can also choose The Very Ugly Bug from last week, just scroll down for all the YouTube links or check the FB page if you need to re-watch them) Can you complete a chart like this with mom and dad?
Most of the books we have read have had some sort of problem and solution (Leo the Lightening Bug, The Ugly Bug, The Greedy Bee, The Very Grouchy Ladybug, The Very Clumsy Clickbeetle)
Finish anything else that you want to finish!
Also, Mrs. Lewis's class, don't forget you have your education.com activities you can do.
Thursday, April 30th
Today's Book- Leo the Lightening Bug, 10:00 am in FB group
 Link to story- Sorry, it is not Mrs. Lewis today 🙁 
http://www.kidwick.com/extras_as_leo.html
ELA- Reading, Writing, Listening
4's Page 3 in your bug journal, letter matching and sound cards, work on writing your name.  Find things in your house that start with B for Bug, L for Ladybug, I for Insect, S for spider
3's I spy bugs game from packet.  Can you answer this question and draw a picture of Leo the Lightening Bug to go with it? 
Math
4's- Work on your bug graph if you started one or make one if you did not get a chance (see graph idea from Tuesday. 
3's- Bugs sorting and/or shapes matching from packet
Everyone-
Work on your Ladybug helper papers (if you were able to print them) that I posted on Monday. How are you being good helpers like all of our bugs that we have been reading about this week?
If you have the supplies at home- it might be fun to make your own lightening bug jar. Have you ever seen or caught a lightening bug??
Wednesday, April 29th
Today's Book- The Very Hungry Caterpillar, 10:00 am in FB group
YouTube link to reading-
https://youtu.be/iOMGnCdDxs0
ELA- Reading, Writing, Listening
4's- Page 2 of your bug journal, work on your letter matching and sound cards. You can also write about your favorite foods that you would eat if you were the Very Hungry Caterpillar. 
3's Draw a picture of all of some of your favorite foods.  Are any of them the same as the Hungry Caterpillar? 
Math-
4's Draw some of your favorite foods.  Count how many your drew.  Do you have more favorite foods than how many the caterpillar ate in the book? How many foods did the caterpillar eat?
3's Finish your fingerprinting packet (add petals to the flowers).  Count how many different foods the caterpillar ate in the book.  
The Very Hungry Caterpillar short video clips-
https://www.youtube.com/watch?v=4_p4b3tALh0
https://www.youtube.com/watch?v=75NQK-Sm1YY
Such a cute art idea for today-
Tuesday, April 28th
Today's Book- The Very Greedy Bee, 10:00 am in FB group 
YouTube Link to reading- 
https://www.youtube.com/watch?v=KCetBdee2iE
ELA- Reading, Writing, Listening
4's- Page 1 of Bug Journal and work on letter cards
3's I Spy Bugs game from your packet and tell your grown up what you did and didn't like about today's story. Draw a picture of your favorite part.
Math
4's Can you make a bug picture graph? Come up with 4 bugs that you want to find, make a graph and then go on a bug hunt and graph what you find.  See picture for an idea-
3's-Page 1 of your fingerprint bug packet and your bugs sorting packet
Craft Ideas-
Large Motor- Can you act our your favorite bugs? 
Fine Motor- Can you make bugs out of playdoh?
Monday, April 27th
Today's Book- The Very Grouchy Ladybug, 10:00 in the FB group
YouTube Link of Mrs. Lewis Reading
https://www.youtube.com/watch?v=DXh_eeuCnuo
ELA-Reading/Writing/Listening
4's- Grouchy Ladybug Journal Paper and work on letter cards in packet (letter and sound matching)
3's- I Spy Bugs Game from packet, draw a picture of your favorite part from the story The Grouchy Ladybug
MATH
4's Ladybug Art- Have a grown up draw the ladybug circles, have child color and add spots and numbers onto the ladybugs.  See if they can go to 10 (or at least 5) You do not need puffy paint, they can use markers or crayons or anything you have to make the black spots.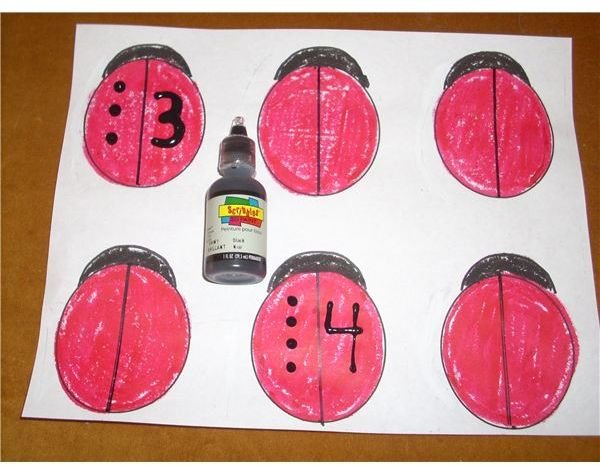 3's- Page 2 of Bug fingerprint packet- draw or use fingerprints to add spots to the ladybug matching the corresponding #
Other Activities-
i can help others ladybug-sheet
This sheet can be printed and the children can add (with your help) all the ways that they can help others.  They can add them all at once or use this as a good deeds ladybug and add to it each time they help or do a good deed at home.  You can write it in and then they can color it.  
PDF Link for Activity Ideas-
DAY-5-ITSY-BITSY-SPIDER-non-editable
PDF Link for today's activities to choose from-
DAY-4-ROW-YOUR-BOAT-non-editable
Nursery Rhyme Song Link-
PDF Link for today's activities that you can choose from-
DAY-2-LITTLE-BOY-BLUE-non-editable
YouTube Link to story of the day-
You Tube Links for songs-
PDF Links for Lessons-
DAY-5-HICKORY-DICKORY-NON-EDITABLE
2-BONUS-printable-nursery-rhyme-bingo-20
DAY-4-LITTLE-MISS-MUFFET-NON-EDITABLE
DAY-3-HEY-DIDDLE-DIDDLE-NON EDITABLEpdf
DAY-2-JACK-AND-JILL NON EDITABLE
Humpty Dumpty Links and lessons-
DAY 1 HUMPTY DUMPTY NON EDITABLE   CLICK THE LINK
Picture Links From Our Classroom-
September                     
https://photos.app.goo.gl/kgZibCVCyr6a3VGH8   (copy and paste)
October and November Photos              https://photos.app.goo.gl/2enKXQ2JBkS6a3oF9  (copy and paste)
Winter Fun Photos!  https://photos.app.goo.gl/ABU9sdt7x3yHDDvJ7  (copy and paste link to see pictures)